No RCD on cables less than 50mm from surface
If you have recently had a landlord or homebuyer electrical report completed on your property, you may have seen "No RCD on cables less than 50mm from surface" listed on the report.
This issue is quite common to encounter on a property where the fuse board / consumer unit has not been upgraded recently. This leaves numerous circuits lacking RCD protection. Full RCD protection across all circuits has only been introduced as a concept just over 10 years ago.
So, I'll outline what the requirement is with regards RCD protection for cables less than 50mm from surface. I'll also explain how best to deal with this issue and what classification code it would normally attract.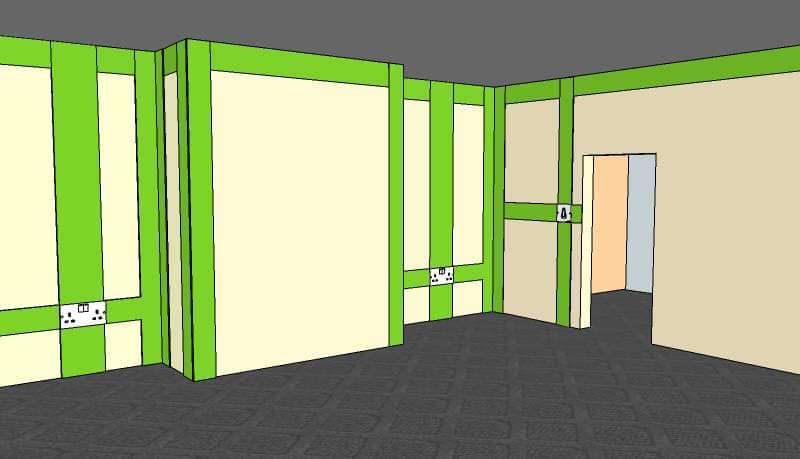 What exactly is the issue?
A new regulation was brought in with the release of the 17th edition of the wiring regulations in 2008. This placed requirements that all circuits with cables buried less than 50mm from the finished wall surface shall have an RCD for additional protection.
In domestic properties, almost all cables which are buried in the wall will usually be less than 50mm deep. Particularly on internal walls, most are not 100mm thick so if not less than 50mm from one side, it will be from the other!!
The regulation for RCD on cables less than 50mm from the surface was brought in to protect buried cables against damage. One example would be banging a nail through a wire when hanging a picture. Another example would be drilling through a cable when attempting to install a shelf.
There are some exceptions to this requirement, however these would be very rare on a domestic installation. One is having earthed metallic protection in the wall in front of the cable. The other is using SWA (Steel Wire Armoured) cable, again not something you would see buried in a house wall!
Obviously houses built or rewired after 2008 won't usually be affected by this problem. These homes will have been built with a more modern consumer unit with full RCD protection of all circuits.
How dangerous is "No RCD on cables less than 50mm from surface"?
As this issue is brought about through changing regulations, it does not introduce any danger to the installation.
According to guidance from BPG4 – EICR from Electrical Safety First, this issue should be considered a C3 – IMPROVEMENT RECOMMENDED. This is defined as the following:
"This code should be used to indicate that, whilst the observed issue is not a source of danger (immediate or potential), improvement would contribute to improved safety of the electrics within a property"
This is one of a small number of regulations relating to the requirement for RCD protection. As we further develop this guide to EICR coding we will link back to them here.
Your landlord/homebuyer report should NOT be unsatisfactory due to no RCD on cables less than 50mm from the surface alone. Obviously if this issue presents with other more serious issues then the outcome may well be unsatisfactory.
How to repair the problem of No RCD on the affected circuits
The only way to resolve the problem of no RCD on cables less than 50mm from surface is to install RCD protection on the affected circuits. As discussed previously, unless they are installed in trunking, this basically applies to all circuits within a domestic household.

RCD protection is built into modern consumer units. Some boards have dual RCDs which cover the circuits in 2 'banks'. The only issue with this setup is that faults can knock many circuits out of action. Recently the cost of RCBO equipped boards has dropped significantly. These boards, in a nutshell, have a separate RCD built into each circuit breaker. Any faults or issues are isolated to the affected circuit.

If you want to learn more about FREE 18th Edition Inspection & Testing Training then head over to Electrical Assistance where a bunch of QS electricians have started a site about the finer points of inspection & testing
Defibrillator Installation Wakefield CALL (01924) 654034Staffed Landline During Office Hours REQUEST QUOTE ONLINERapid Response…