Lack of BS7671 Dual Colour Warning Label at Installation
Has your recent electrical safety report (more properly called an EICR) had a fault listed for the lack of a BS7671 Dual Colour Warning Label?
First and foremost don't worry because this is a comparatively trivial issue with your electrical installation.
Whilst it does warrant inclusion in the report, this issue should never be classified as anything other than a C3 – IMPROVEMENT RECOMMENDED issue.
What is a BS7671 Dual Colour Warning Label anyway?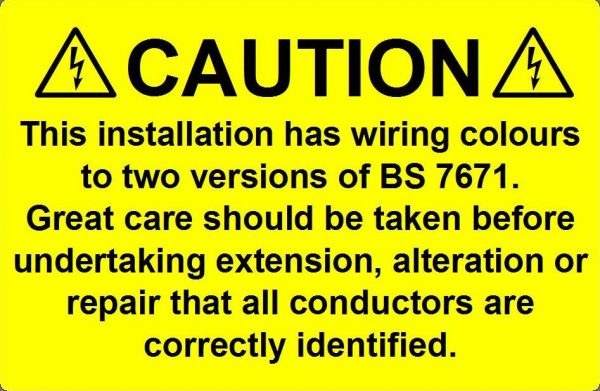 In May 2004, the IEE changed the colours of the conductors in a cable to match those in Europe.

Prior to this we had been in the strange situation of having 2 different colours indicating the same thing (red & brown were both live). Red was the colour for live cables within an installation pre 2004, and brown was the colour used for live cables in appliances and such like.

"Harmonisation" brought our wiring colours to the same specification as elsewhere on mainland Europe. Our cables in both appliances, and the fabric of the building, were now the same.

Whatever your views on Brexit this colour change is here to stay!

In order that people working on an installation may be properly aware of the change, a warning label was introduced. This label is the 'BS7671 Dual Colour Warning Label' discussed here. Bright yellow with bold black writing, headlined CAUTION. The writing must be bold and legible.

A common issue with this is when an older installation has a more modern addition. The installation now contains wiring to both versions of the BS7671 cable colours (pre & post harmonisation). As such a warning label indicating this must be fitted, ideally on the consumer unit/fuse board.
Does this represent an electrical safety risk?
To be quite blunt about it: not really.

Anyone going inside your electrical installation, but not familiar with the change, are not competent to be completing the job.

Sadly we have seen examples of people being told extreme lies with regards this issue. Just because the cable is the old colour DOES NOT mean that the installation needs rewiring!
Sometimes electrical tests/reports are offered at ridiculously low prices. Seeming good value, they often only proceed to tell you that a perfectly good electrical installation needs £££s of remedial works.

Obviously some older types of cable (which by their age are obviously the older colours) are ready for replacement. However, do not mistake the colour of the wiring as a direct indicator that the wiring is due for replacement. There is far more to check before the cable should be condemned than just the colour of the wires.

There was actually a grace period until 31st March 2006 during which the old colour could still be used. This was to use up stocks of old colour cable (there was nothing wrong with it, just 'the wrong colour'!). T

So there is every possibility that red and black cable could be as 'young' as 13 years old! – (at the time of writing). The expected lifespan of PVC cable is 50+ years, meaning lots of life left.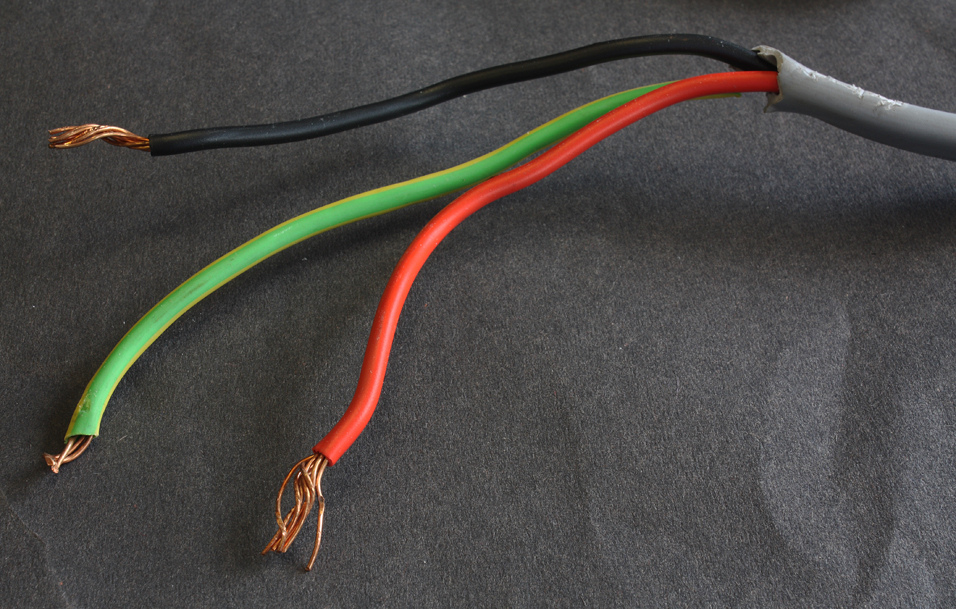 Does this issue affect the outcome of an electrical report?
An electrical safety report will not be considered UNSATISFACTORY due to the presence of this issue alone. The inspection could have any number of C3 items and still be SATISFACTORY.

Electrical Safety First, who produce the Best Practice Guide 4 (EICRs), recommend this issue be considered a C3 – IMPROVEMENT RECOMMENDED. This is a minor 'technical defect' which introduces no potential of danger. These items are mainly related to minor changes in regulations which have been brought in subsequently.

If you have been told your report is UNSATISFACTORY because of this alone, you should approach this with your electrician.

If you need any further help or advice, please do not hesitate to get in touch. ElectricBlu Contractors are local specialists in Inspection & Testing in Wakefield. We help a wide range of local customers, from single householders, to landlords, estate agents, property management agents, hotels, healthcare providers and other commercial customers.

If your electrical installation is important to you then we can help ensure it stays in top condition, tested, inspected and certified.

Regards, James
ElectricBlu Contractors
Defibrillator Installation Wakefield CALL (01924) 654034Staffed Landline During Office Hours REQUEST QUOTE ONLINERapid Response…