Fuse Board Upgrades in Wakefield
Fuse Board Upgrades in Wakefield
If your property in Wakefield has an old, outdated fuse board then it may be time to consider the many benefits of having your fuse board upgraded.

The very heart of the electrical system within your home, your fuse board distributes power from your electricity meter around all the circuits within your property.

From lights to sockets, cookers to showers; each and every circuit is connected to the fuse board.

Older fuse boards often lack a number of the features of a modern consumer unit (this is the name of a fuse board replacement, quite bluntly because they no longer use fuses!). These features are both safety related and also more convenient for the end user.

If you have wondered about the benefits of having a consumer unit upgrade fitted to your property then read on…
How do I know when it is time to upgrade my fuse board?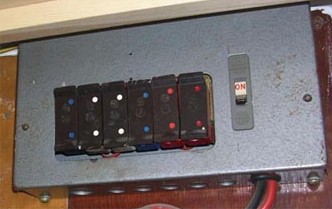 Upgrading of your fuse board to a modern consumer unit should be seen as "planned maintenance" works on your property.

Although your trusty old fuse board may have given many years of faultless service, true "fuse boards", those with rewireable fuse wire, are approaching 40 years old as a minimum.

A lot has changed in the electrical world in the last 40 years. Many more items within the home require power from sockets. Not only that, but there have been new introductions to the humble "fuse board" which increase safety no end.

If you have a fuse board with a wooden back, or a large number of separate switches and fuses, your installation could be even older. This may lead to the need to seek out a fuse board upgrade from a specialist. An electrician should be consulted first as if the wiring is particularly old then replacement of parts, or even a total rewire may be necessary.

Whilst old fuseboards may still continue to serve, realistically they were simply not designed for today's world of electrical items and appliances everywhere.

There are still many homes throughout the Wakefield area which have older fuseboards powering sockets feeding extension leads and so forth. These then have a multitude of modern equipment plugged in, often causing concern over the safety of old fuse boards.
Having Additional Electrical Items Installed
If you have decided that you need an additional socket, or an extra light installing, then this can cause problems with older fuseboards, leading to the requirement for a fuse board upgrade

These "additional installations" are required to be installed to the latest specification outlined in the wiring regulations. Unfortunately older fuse boards do not meet these requirements (mainly due to not having RCDs installed within them).

We have come across many instances during our works in Wakefield where customers with older, outdated boards want new items installing.

Whilst the installation work may seem relatively minor, in most cases like this it will require upgrade works to the older types of fuseboard (particularly those still with rewireable fuse wire).

Please note that this does not apply to like-for-like changes of items. You can replace a broken socket for another like-for-like, or change an existing light fitting for a new one, however installing an additional (extra) one has to meet the latest regulations (18th edition, published in 2018).
What are the Improvements with a Fuse Board Upgrade?
The replacement for the old "fuse board" in the form of a modern consumer unit includes a large number of additional safety improvements.
These include the following:
MCBs (Minature Circuit Breakers) – These are the modern alternative to fuses, performing much the same function however they are resettable. This means that should one trip out, you simply need to flick the switch in order to reset it! No more messing with fuse wire in the dark!
RCDs (Residual Current Device) – Essential safety device to protect against possible electric shocks. These are a requirement in the latest wiring regulations and ensure that the power disconnects quickly enough to prevent serious injury should you cut or drill through a cable. High end boards use something called RCBOs, which are a combination of a circuit breaker and an RCD in one single unit.
Non-Combustible Casing – The casing of modern consumer units (in domestic settings) has to be made from a non-combustible material. This change was brought in 2015, as a response to a number of electrical fires having being caused by faulty fuse boards. The metal casing is designed to contain any fault within rather than melting as is the case with plastic (or burning with older wooden boards)
A Thorough Test of your Installation – although this may seem a strange benefit of an upgraded fuse board, it is an inportant one. When the new board is fitted the electrician will complete a series of detailed tests on your electrical installation. This can help root out any underlying faults that may have been undiscovered on your old installation.
Surge Protection – the latest high end consumer units feature surge protection devices (SPDs) which help protect against dangerous spikes in voltage. These can easily damage sensitive electrical equipment such as computers, modern large TVs and other expensive electrical items.
How long does it take to complete a Fuse Board Upgrade?
This question is a bit difficult. The main factor which affects the length of time it takes to upgrade your old fuse board to a modern consumer unit is the number of circuits involved.

The higher the number of circuits, the longer it takes to remove and upgrade the fuse board.

It also takes correspondingly longer to test afterwards if there are a higher number of individual circuits.

It certainly takes less than a full day to change the fuse board for a modern consumer unit in most domestic houses. This time also includes the testing afterwards.

Particularly difficult properties, ones with large number of circuits and/or outlets on those circuits may take a "long day" to upgrade and test. Obviously commercial properties and the like can take longer than this still.

But the upshot is pretty much that within a day you could have a much safer home electrical system!
How much should a new consumer unit cost?
A fuse board upgrade is a complicated job. It involves the removal of the old fuse board, installation of the 18th edition consumer unit, inspection & testing of your installation and also the documenting and production of certification.

Not only that, but a Part P approved contractor who is completing the works properly will need to notify this to their governing body to self certify your Part P notification.

After this point, a reputable electrician such as ourselves take on so much more than just that one day of work. We warranty all our works for the entirety of the product warranty (obviously dependant on the parts themselves). This means if your RCD stops tripping and it's a fault with the board we will replace the affected part free of charge. We also provide our satisfaction guarantee for 6 years from date of install. This means that if there is any defect found in our workmanship for a period of 6 years from installation, we will rectify it free of charge.

We are also covered by professional indemnity insurance, and public liability insurances. This means that your property is guaranteed and insured to be safe and compliant after any upgrade works.

Costs of such works are highly dependant on the number of circuits involved.

Parts & Labour installs of quality consumer units with 3 years parts warranty are approx £400/550 dependant on the number of circuits and access to the equipment to change it.

Obviously if there are any parts of the original installation which require upgrading to meet regulation then this would not be included in the price range above. The difference is we cast iron guarantee we will not give you lies about work that does not need to be done.
How do I get a New Consumer Unit?
If you have been looking to upgrade your old fashioned fuse board, to a modern consumer unit then you have now learnt a number of things.
You have learnt how to have a rough idea of the sort of things which indicate your fuse board is particularly old.
You now also know the particular advantages and safety benefits of upgrading your old style fuse board.
If you are looking to have a new consumer unit fitted in Wakefield or surrounding areas, you should be aware of a few key points first:
Always check the installing electrician is registered at the Competent Person Register. This site lists all electricians registered with a governing body in the UK.
This work is what is known as "notifiable" and either requires a registered electrician to install, or council building control to sign off. Our advice is to strictly use a registered electrician. The extra safety net from their governing body register is invaluable for the end customer.
Check legitimate reviews and examples of works. Facebook and Google are key sources of actual customer reviews which can give a great insight into the quality of that particular companies work.
Don't be afraid to ask to see references and examples of work. Any electrician with pride in their work will be happy to supply these.
Never go for the cheapest quote alone. I appreciate that money is tight but we could share a thousand examples of times where the cheapest quote has come with "extras" or indeed (and sadly worse) is the cutting of corners. There are a number of "tradespeople" taking advantage of the complicated and sadly poorly policed electrical installation rules.
This has given many unskilled and frankly, unqualified trades the ability to complete potentially dangerous electrical works such as consumer unit upgrades.  This is often seen with plumbers, kitchen fitters and many others completing in depth electrical works.
Consumer Unit Upgrade in Wakefield
If you are local to the Wakefield, West Yorkshire area then we are the electricians to trust!

We specialise in small project works such as these and have built an enviable reputation in the Wakefield locality.

Rather than getting your fingers burnt, or upsold something you don't need, if you need a consumer unit upgrade in Wakefield or the surrounding area then give me (James from ElectricBlu Contractors) a call today on (01924) 654034.

Alternatively I can give you advice DIRECT with the online chat function as below. If you want to book a free of charge fuse board upgrade consultation then click on the chat and I can guide you through it.

I take personal pride in our reliable and trustworthy service. I know finding a good tradesperson is sometimes difficult, nerve racking and painful! I also know your home is your castle and you need advice you can rely on from someone you can trust!

Kind regards

James
ElectricBlu Contractors