Outdoor Sockets Supplied & Fitted Wakefield
Are you sick & tired of running cables through your doors or windows so you can enjoy electricity in your garden?

ElectricBlu Contractors can supply & fit outdoor sockets in almost any location to suit your requirements!

From a simple outdoor socket on the external wall of your house to a socket at the end of your garden fed via armoured cable, we can design a solution to suit your needs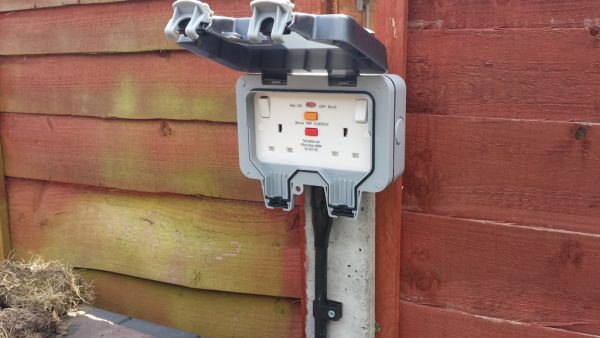 Garden & Outdoor Sockets Installed in Wakefield
We are highly experienced at providing outdoor power no matter what the requirement:
- Grass keeps blowing inside your house when mowing the lawn?  Keep your doors shut with an outdoor socket next to the grassed area.  This also increases safety as long trailing leads across walkways that can get damaged are a serious problem when using electrics outdoors.  Having a socket close to where you intend to use the power saves having to use long, often unsafe extension cables.
- Need power for that large pond or fountain?  We are experts at getting power to the most awkward places both safely and with as little disruption as possible.  Installation of power for items such as ponds or water features requires special consideration due to the possibility of water ingress.  You need to ensure that any installation is not only just watertight against splashes, but the possibility of heavier water flow onto electrics.  Installing local sealed connections feeding fixed items such as pumps and lighting from remote mounted spurs/switches is the best idea.  This allows for a much higher IP rating to be maintained, whilst being as convenient as possible!
Local Electrician - External Sockets & Power
Obviously any power, whether sockets or lights, when used outside has a much higher risk of serious electric shock due to contact with "true earth" outside.  
Any new socket MUST be fitted with RCD protection to ensure compliance with the wiring regulations.  This is of especial importance when used with outdoor sockets.  This is why you should always used a qualified and registered electrician to complete this work on your behalf.
Although separate to a socket installation, we can self certify installation of new circuits to feed outdoor sockets, as well as other items requiring garden or external power.  This comes complete with all appropriate certification, Part P notifications & full 6 year warranty!
RCD Sockets - External Fused Spur & External Switches
RCD protection can be provided in the socket itself in some instances, although there are a number of other cases where the cable supplying the socket itself would require RCD protection.

This is the reason you need to employ the services of a registered electerician to ensure that you get this right. Each house is different, as is the garden, and also your requirements as to where you want the socket will be different to someone elses. As such, each and every installation is afforded bespoke design to ensire that it is safe, compliant and also provides you with the most convenient use of your garden electrics.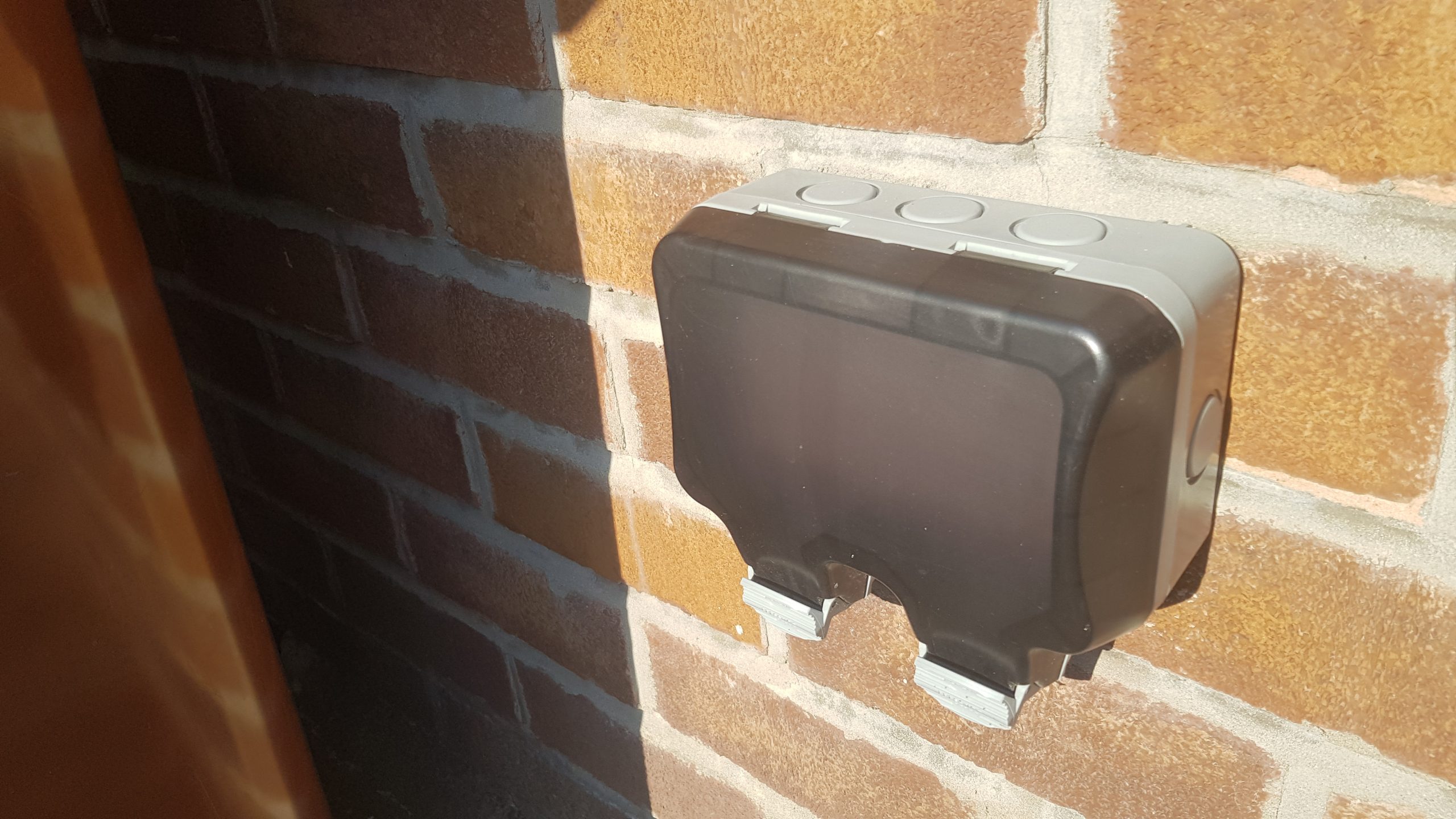 Cables for use with Outdoor Sockets & Switches
Last but not least, don't forget about potential mechanical damage to cables. Much in the same way that you wouldn't use a multitude of extension cables and leads as we discussed above, simply running flex 'clipped' to the fence is not correct. In most instances outdoors, unless clipped to the exterior of a wall for a short run (ie: to supply an outdoor light/floodlight), then SWA (Steel Wire Armoured) cable is the one to use.

Contrary to popular belief amongst our customers, the 'armour' in SWA cable is not for direct 'impact protection' in the sense that a coat of armour would give! The intention is that the SWA armour wires (which run around the entire external surface of the inner cabling) are earthed by use of a gland. If any damage to the cable should occur, the earthed armour wires will cause a fault with the inner core (strangely enough this is what we are after here!) Such that the Circuit Breaker, Fuse or whatever your fuse board has will trip out.

The cable itself is also made up of many different layers, and a tough outer coating which is black and plastic like. This protects against UV damage to the cable. Terminating SWA armoured cable, and correctly earthing the outer wires, is quite an art form and we very rarely see many examples of this having been done right previously (apart from commercial electrical works where this type of cable is much more common).
Need a Local Electrician in Wakefield for Outdoor Sockets?
Call James today on (01924) 654034 for a quote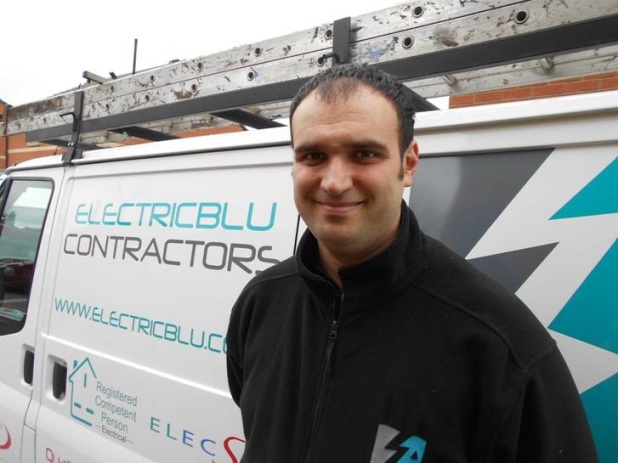 Alternatively click on the green button below to book a rapid response online quote
Need An Electrician in a Different Area?
Are You A Home Owner Looking For A Domestic Electrician?
Are You A Business Looking For A Commercial Electrician?
Are You A Landlord, Letting Agent or Estate Agent?
Landlord Electrical Services Wakefield
Free Rental Electrical Regulation Advice
Who We Are!:

ElectricBlu Contractors
The Plex
Margaret Street
Wakefield
WF1 2DQ
(01924) 654034

Contact Us
Our Privacy Policy
Sitemap